11 free booklets to learn how to play Zenko
The Zenko is an intuitive musical instrument that comes in 10 scales that are simplified and easy to play by everyone. Nevertheless, it is always pleasant to feel accompanied when learning an instrument. Metal Sounds and the professional percussionist Conny Sommer worked for 4 months on the development of teaching manuals for the handling and practice of the Zenko steel tongue drum.
Our team is now very proud to present you this work: 11 booklets in pdf, that is to say 1 booklet per range + 1 booklet for the chromatic set (double Zenko: Ionian + Combo). These booklets are illustrated by 58 online videos on our You Tube channel. Everything is free to download and view!
The purpose of these teaching manuals is to teach you some rudiments concerning the instrument as such with the techniques and playing positions, then to propose 4 original compositions for each Zenko scale. All the compositions have been written by Conny Sommer in the form of classical scores (staves, notes...) and simplified tablatures.
The numbering system of the notes to be played is simple: right hand = R / left hand = L
Each composition is played at the right tempo in a video accessible from the manual thanks to a QRCode and a "video" link placed under the QRCode.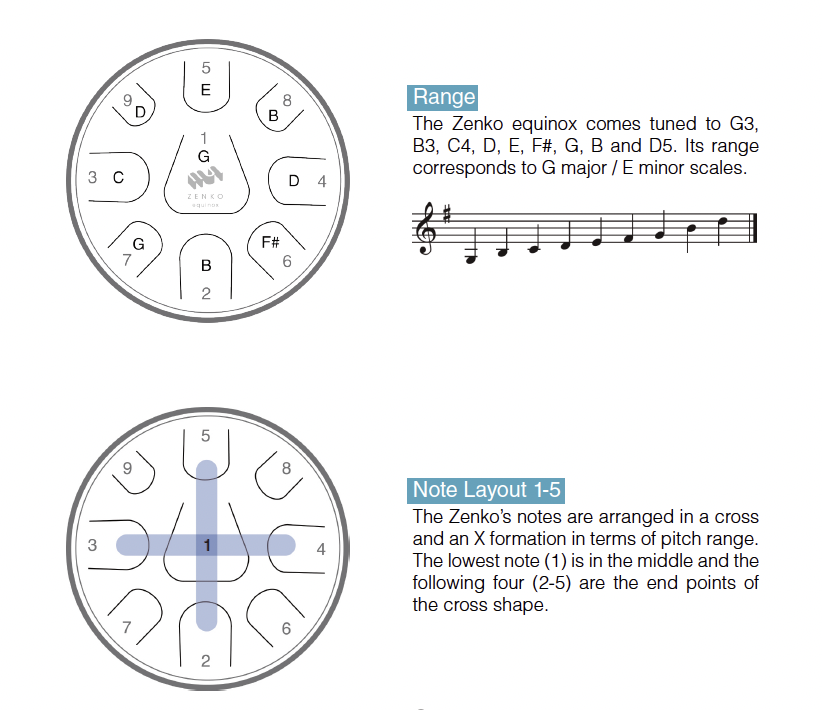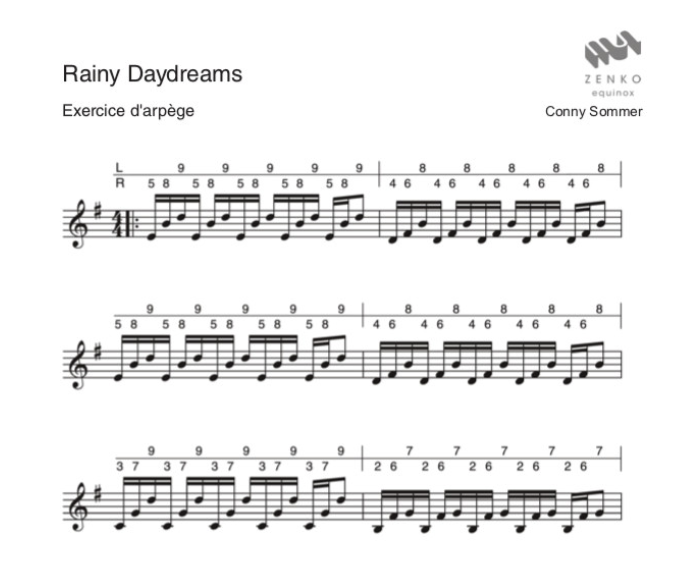 Example of score / tablature for the Zenko Equinox



Metal Sounds is the only company manufacturing melodic metal percussion instruments to offer such educational material. Thanks to these booklets the Zenko is entering the big league to become a musical instrument in its own right.
But let's be honest, this is a launching pad, an introduction to the musical potential offered by our instruments. It's not a complete method to make you a professional steel tongue drum player. The 4 original pieces are of different levels, allowing the musician to progress in stages. Then he will have a sufficient level to compose in turn or improvise with technical tools and increased experience.
Tutorials & Booklets completely free of charge!
The free access to all these teaching manuals, and thus the availability of all of them, reflects our will to democratize melodic metal percussion. Indeed, our mission does not stop at the design and manufacture of musical instruments. We also have a responsibility of transmission to assume through learning, through workshops, teaching manuals, or even training.


Metal Sounds also has the ambition to develop and animate an active community of players. They will be able to share their experiences, knowledge and discoveries with each other. Feel free to send us your videos in which you play one of our original compositions. We will gladly share them, for the greatest pleasure of other Zenko players.
Download the complete collection of Zenko teaching manuals by clicking on the link corresponding to your language:
– Tutorials & songbooks (scores, tablatures and videos) in English (zip, 71 Mo)
Nota: If an error has occurred in one of our booklets or on a video, or if you have any suggestions to improve our educational content, please do not hesitate to let us know by sending us an e-mail on info@metalsounds.fr.
Enjoy to play!