F.A.Q


Frequently asked questions on how to choose, order, play and maintain Metal Sounds musical instruments.
What is the usual delay on receiveing my instrument?

- SPACEDRUM: Our delivery time is estimated at around 1 month (see "waiting period" in top menu). For openess our policy is to process orders chronologically and unfortunately it's not possible to reduce this period by any means. Although we do our best to shorten your wait as much as we can, we never confuse speed with haste. The quality of our instruments takes precedence above all else!
- ZENKO: Generally well stocked, our Zenkos are normally shipped within 48 hours of ordering. In the rare occasion that a model is out of stock, the maximum wait time is 2 weeks before shipment.
- STEELDRUMS: Depending on availability and model, it can take between 5 days to several months. Contact us!
Is there any warranty?
All our instruments are tested before shipping. It belongs to each person to check the tuning and the surface of his/her instrument as soon as he/she receives it. After 48h (since the delivery) any making default claiming will be rejected. Spacedrum Evolution & Zenko have lifetime warranty against corrosion and a 3 year warranty against any assembling or welding issues. Spacedrum Nitro has a 1 year warranty against corrosion and a 3 year warranty against any assembling or glueing issues.
I'm a beginner, which model of handpan or steel tongue drum should I choose?
With Spacedrums, the 8 and 9 Note models are the most appropriate for the beginner, easiest to play and value for money. Our harmonzed scales make these handpans a preferable choice and an intuitaive instrument to start with. On the other hand, to begin the chromatic or an other « Master Piece » model should be avoided by all novices as their complex note arrangement make it quite a challenging hang drums to master.
All the Zenko range are easy to play and advance with, but as above, the chromatic version of the drum (combo) is advised only for the more advanced/experienced musician.
Concerning Steeldrums, the Tenor (soprano) is ideal for beginners and still remains our benchmark steelpan.
Why prices are indicated including and excluding VAT (taxes)?
Regarding the place where the order must be delivered the prices are calculated including taxes (for France and European Union Countries) or not (every foreign countries that are not located in the European Union). For the non-European customers some customs taxes can be applied on the delivery (importation fees, according to each customs settlement).
What can I do if my musical instrument goes out of tune?
In a normal way of use a Spacedrum or a Steeldrum have to be retuned every 2 years. That's a routine operation. If your instrument has gone out of tune after a shock or a drop it's necessary to retune it as soon as possible to avoid a "chain reaction" and see the other notes going out of tune too. We offer an after sale service (see "after sale service" section).
Can I tune my handpan or my steelpan myself?
No! The metal tuning by hammering is an Art that comes along years of practice. Those who try to tune themselves their handpan or steelpan take the risk to make the situation worse than it use to be.
The Zenko is not likely to detuned. But in case you have a problem with your Zenko, contact our team for assistance.
Can I visit the Metal Sounds' workshop?
Yes, it is possible to visit us at our Saint André de Sangonis (34725) workshop, where you can play and test our instruments for yourself in the showroom. We present our handpans and sometimes a prototype, a second handpan, a used hang drum to buy is exposed there. Here you may avail firsthand of our friendly team's expertise and knowledge to help you in your choice of instrument.
Visits and tours are by appointment only, we would be delighted to hear from you to help you organise your visit to Metal Sounds.
Where can I try your musical instruments?
Apart from our workshop in Saint André de Sangonis, you will find our handpans & tongue drues, in several french Music Stores. Here they stock the Zenko and Spacedrum range from which you may play, choose and listen to several different models.
We have also partnered with many music stores worldwide, where our full range is on sale and display. You can find a full list of our international vendors on the Metal Sounds website. Steeldums for logistical reasons, are more difficult to try and test so before ordering, we would suggest to call us in advance so we may help you with your purchase. Check out the official Metal Sounds musical instruments dealers map.
What are the differences between each 5 Spacedrum Evolution generations ?
Since the release of our first generation handpan in October 2008, before Metal Sounds was created, our Spacedrums have been constantly and rapidly evolving. The first generation of instrument was considerably smaller with a 50 cm diameter, 8 Notes and entirely fully hammered by hand.
Two years later in October 2010, we released the V2 (version 2) with a new shape and improved surface treatment. Our third generation of Spacedrum followed in February 2012 with new more advanced surface treatment techniques (see Manufacturing section).
In 2013 the use of stainless steel allowed us to offer an entirely rust and corrosion free instrument, which was the Spacedrum 'EVOLUTION'.
Finally in october 2018 the last version of the Spacedrum Evolution saw the light of day with an integrated DING and a completely enhanced design. Every new version or generation brings improvements and extra features, as a result of Metal Sounds dedication to constant research & developement.
Spacedrum EVOLUTION® or Spacedrum NITRO® ? Which handpan should I choose?
There are quite a few differences between these two handpans. Essentially they differ in the material used, type of heat treatment, assembly of the shells, dimensions and aesthetics. But most importantly is to understand which application and user profile matches each model best before you decide.
The stainless steel Spacedrum EVOLUTION®, is acoustically powerful and a very melodic handpan with brilliant sounds and much sustain while Its notes respond quickly. An easy-to-play handpan that lends itself particularly to personal development such as relaxation, yoga and music therapy. The Spacedrum Evolution is made with a reverse note layout, opposite to that of most other handpans. Start by playing the Ding with the right hand then climb the scale by alternating between left and right hands. (See diagram for note layout in the product sheets)
The Spacedrum NITRO® is a very percussive instrument, delivering a soft, well balanced sound. It withstands powerful strikes well and doesn't saturate. This handpan suits musicians more concerned with varied, creative and precise hitting styles and techniques. The Nitro has the standard note layout (pattern) like that offered by most of the handpan manufacturers. A high quality handspan which gets its original sound from the slimness and technical characteristics of the treated steel used.
How should I call these kind of musical instrument?
The Spacedrum belongs to the family of musical instruments, called Idiophones. A melodic percussion instrument made of hammered metal. A word had to be invented to describe this new drum, thus Kyle Cox, founder of Pantheon Steel® and creator of the Halo®, coined the familar term "HANDPAN". This word comes from the analogy of 'Steelpan' which defines the Steeldrum family of instruments.
The prefix of 'Steel' is replaced by 'Hand', and 'Pan' refering to the shape of these instruments for drum. In Israel for example, the term 'PANTAM' is more frequently used to describe this drum, such as the maker of Yishama® handpan for instance.
What are the differences between the Spacedrums, the Hang® or other handpans?
In 1999, PanArt® created the Hang® the original of all handpans. Though there are hundreds of handpan manufacturers around the world today, each, as with all craftsmen, brings their personal touch to their instrument, often using identical formed and treated shells.
Metal Sounds' handpan steel sheets are selected according to our team's stringent criteria, giving their unique sound identity and recognizable design. This, with the materials used, the domed shape of the shells (top and bottom), the DING, the dimples, as well as surface treatment and finish, differentiate our drums from all other handpans. Whatever Spacedrum model (stainless steel or nitrided) you try, you will always find a specific sound identity and design. In addition, the Spacedrum EVOLUTION is the only handpan available worldwide offering a chromatic range and coming in 3 different drum sizes.
The Spacedrum EVOLUTION® is designed to offer a full rich and powerful sound, with a lot of overtones and a long sustain. Moreover, the Spacedrum EVOLUTION® is the only handpan in the world to offer a complete chromatic range and 3 different sizes. The
The Spacedrum NITRO® has a soft, warm and round sound with a moderate sustain. It is also a handpan with powerful acoustics but with a very low saturation level.
What are the handpan or steel tongue drum maintenance advices?
See the "Use and maintenance" part. You can also download the notice (on each Spacedrums or Zenko model webpage).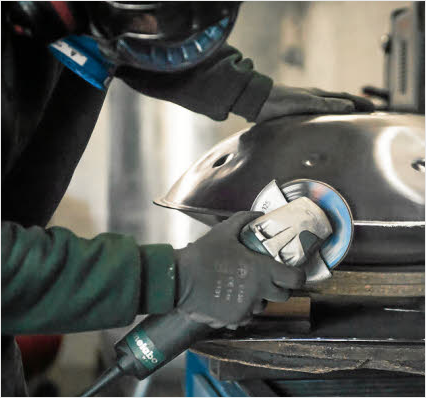 For any other request, contact us by e-mail or by phone +33 6 21 10 10 18