"Handpan Sundays". Handpan curses at the Metal Sounds showroom

How better to share our passion than by allowing the public to come and discover and play our instruments, right here in the workshop? Metal Sounds has a showroom dedicated to the presentation of our instruments and to the reception of our partners and customers. But this space is also intended to receive the public because our role as a handpan manufacturer is also to promote the practice of this instrument.
The concept of "Handpan Sundays" was born from the common desire of a handpan maker and a multi-instrumentalist and composer. To transmit our passion to all those who are interested in the handpan and who wish to learn how to play it in a simple and friendly way. Musician, practitioner and teacher of the handpan for many years, Mélaine Cogez alias "Miloon" transmits his knowledge with a pedagogy based on the notion of pleasure. He leads each student to develop his own body language and to let his emotions express themselves through the practice of the handpan.

 
Handpan lessons near Montpellier

Here there is no remote practice, no online handpan lessons or courses, we prefer to meet and exchange in the heart of our handpan workshop. And so that everyone feels completely available and relaxed, we have chosen to organise these lessons only on Sundays.
Miloon and Metal Sounds offer you one Sunday a month, in the showroom of the Metal Sounds workshop, located in Saint-André-de-Sangonis (34), handpan lessons in small groups (10 students maximum).

Two slots and 3 levels of practice are proposed, in order to adapt to the needs of each person:

From 10.00 am to 1.00 pm: discovery and beginner classes

From 2.15pm to 5.15pm: intermediate and advanced classes

As part of the courses, Metal Sounds provides students with a fleet of 10 Spacedrum® Nitro handpans free of charge. You will learn on the same handpan models that we make every day. You will be able to learn or improve your handpan practice, in complete peace of mind with quality equipment!
We obviously accept all those who wish to come and take lessons with their own handpan. The diversity of handpan models used often gives rise to interesting exchanges and allows us to get to know the instrument better through more technical discussions about materials and manufacturing methods.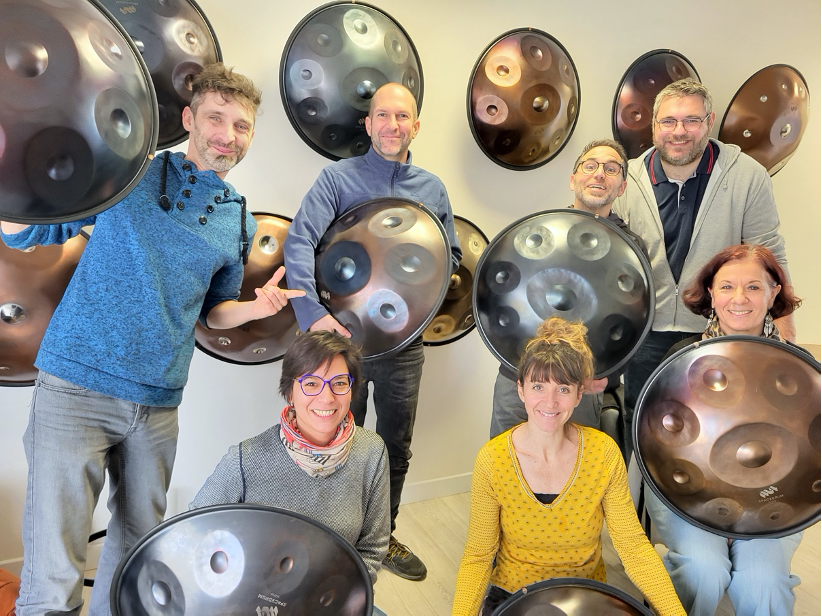 What are the advantages of attending the "Handpan Sundays" courses?
The conviviality, the shared pleasure, the sweet melodies of the handpans are important but not sufficient. That's why participating in Handpan Sundays also means enjoying many advantages. Here is an overview of the benefits of becoming a Handpan Sunday student.

A trial lesson with free participation
You can sign up to take a first class, after which you will give a free and conscious contribution according to your experience.

A 10% discount on the price of handpans
Regularly students ask us to purchase a Spacedrum handpan. Metal Sounds offers all participants of Handpan Sundays a 10% discount on the price of instruments and accessories. This discount is valid regardless of the number of lessons taken in the showroom!

A delay for the manufacturing of your handpan in VIP mode
We manufacture our handpans on order only, and a delay of several weeks is necessary between an order and the delivery of the handpan. A waiting list is therefore established to define the order in which the handpans will be made and the deadlines. As a student, you will benefit from a shorter delivery time than we usually do. Metal Sounds will make sure that you are placed on the waiting list for handpan production.

Genuine payment facilities to buy a handpan
Buying a quality handpan is a big budget for many people. Not being able to afford a good handpan when you want to take the plunge is often frustrating! Metal Sounds offers Handpan Sunday students the possibility of paying up to 10 monthly instalments at no extra cost. This is a great effort on our part to help you quickly acquire the handpan of your dreams and continue to practice at home in addition to your lessons.

An exclusive offer to take back your old handpan with the purchase of a Spacedrum
If, during your visit to the showroom, you have fallen under the spell of one of our Spacedrum models and you want to change your instrument, Metal Sounds can offer you to take back your handpan and make one especially for you. Terms and conditions to be determined according to the condition and brand of your instrument.


Practical information about the "Handpan Sundays" courses
Each handpan lesson lasts 3 hours whatever the level (a 15-minute break is provided in the middle of the session).
Price per lesson is 40 €.
But, if you are going to take several lessons, think of subscribing to a 5 or 10 lessons subscription to benefit from a degressive rate: 5 lessons for € 180 or 10 lessons for 350 €.

The dates of the handpan Sundays are scheduled by semester. You will find below the details of the next proposed dates for our Handpan Sundays:


Sunday, October 1, 2023
Sunday, October 15, 2023
Sunday, November 12, 2023
Sunday, December 10, 2023



Provision of instruments
About the teaching material, Metal Sounds has a fleet of 10 Spacedrum® Nitro handpans which it makes available to students who do not yet have a handpan. People who do not have an instrument can therefore come and take lessons in complete serenity for months if they wish.

Come and try a lesson! For more information, please contact us, or contact Miloon directly, at info@happy-hang.com.


Did you like this article? Would you like to receive more information about the handpan? Subscribe to our NEWSLETTER below!