How to learn to play the handpan?

Whether you haven't had the chance to put your hands on a handpan yet, or you're already the proud owner of this magical instrument, Metal Sounds gives you its best advice and tips to help you find the right formula for learning to play the handpan.


I don't have an instrument yet, how can I learn to play the handpan?
The handpan is an instrument that is still little known to the general public, but in recent years it has become increasingly popular, both in France and abroad. Thus, many people want to try it! And if, like them, you don't have a handpan yet, you should know that there are simple and accessible solutions to discover the handpan before buying one. Here is a quick overview of the options that will allow you to discover and play the handpan without owning one!

Handpan workshops and courses
There is nothing better than to dive into the deep end and learn to play the handpan! The handpan workshops are perfect to learn what the handpan is! This will be the opportunity for you to learn more about its history, manufacturing processes, materials, etc... but above all to get in direct contact with the instrument to create your first melody!
Just like the workshops, the discovery courses will allow you to immerse yourself directly in the world of the handpan and to share your impressions with other people in a friendly atmosphere. Very quickly, even without any musical training or knowledge of this percussion, you will be able to enjoy playing the handpan.
Today, almost all beginners' workshops or discovery courses have teaching material available to learners. So, you don't need to own a handpan to discover the instrument or learn to play it, at least initially.
There are courses and workshops in many cities, in France, in Europe, and even all over the world! You can easily find on the internet events that take place near you. And you may want to contact a handpan manufacturer or a specialized music shop to find out more about handpan workshops and courses.
NOTE: We advise you to join a handpan group on social networks to find a workshop near you more easily (see list at the end of this article).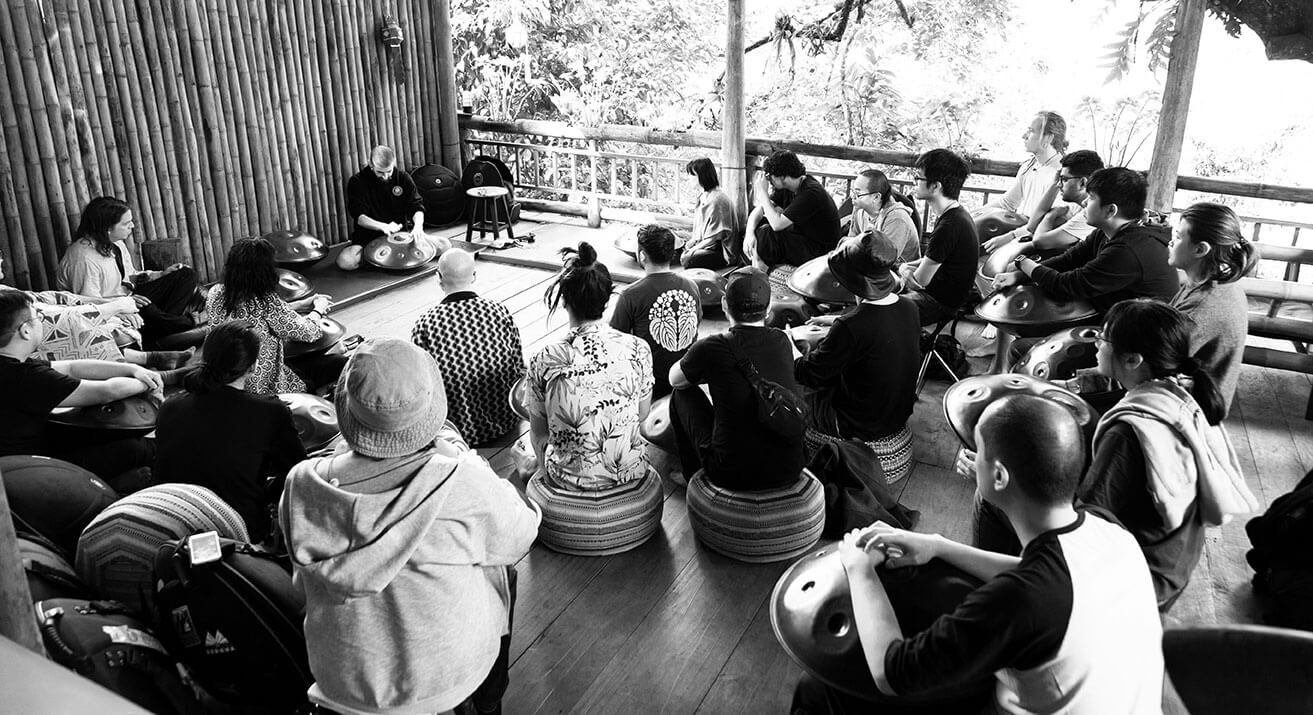 Taking handpan lessons
Handpan lessons, whether group or individual, will allow you to immerse yourself directly in the practice of the handpan with a dedicated pedagogical approach. Learning to play the handpan with a teacher who regularly follows you and helps you progress is an excellent way to see if this instrument is really for you. Many courses also offer the loan of a handpan, so that you can get started. You will then have a pretty good idea after a few weeks or months of practice of the feeling you will have developed with the instrument.

At Metal Sounds, our partners include teachers who are experienced musicians, recognized for their expertise. Their teaching can take different forms such as workshops, master classes, or regular lessons throughout the year.
As far as lessons are concerned, for example we propose in partnership with Mélaine Cogez, alias "Miloon", handpan lessons throughout the year: the handpan Sundays.
One Sunday a month, in our workshop in Saint-André-de-Sangonis, you can learn to play the handpan for a small fee, with the use of a quality handpan. These courses, lasting an average of three hours, are open to beginners, and no musical knowledge is required.
For further information, please see our page about Handpan Sundays.

Learn the handpan with a friend
Why not discover the handpan through a friend who already owns one? It's up to you to share your desire to play the handpan with a friend at home, during a walk-in nature or a chance meeting for example.
Discovering the handpan in a small group is sometimes easier, especially for reserved people who feel more at ease with a friend than in a group. So "take advantage" of him/her to take your first steps on a handpan! Ask him/her to touch it, try to play it and put it on your legs to feel the instrument vibrate inside you.
The advantage of this option is that it is free, friendly and fun. It has its limits of course but for a first time experience it is a simple solution that can help you find out if you really like the handpan. So, if there is someone around you who can share their knowledge with you, and make you practice, don't hesitate, contact them and ask them to teach you, or at least show you how to play the handpan.
 
Going to handpan festivals and meetings dedicated to the handpan
Another good way to discover the handpan is to immerse yourself in the world of handpan by attending dedicated cultural events.
Going to a festival or a handpan concert will probably give you the opportunity to meet handpan players, to exchange ideas and even to try the instrument. They are easy to identify, they have a shell on their back!
Just like workshops, courses, or even classes, events around the handpan are booming and are more and more recurrent in France and abroad. Listening to live artists and the music they have composed for the handpan is often one of the triggers for wanting to play the handpan. This incredible instrument can be adapted to many different styles of music and is reaching an increasingly eclectic audience. There is no age to play the handpan, just as there is no age to listen to music!
Going to handpan concerts will allow you to discover artists, their music, and to meet handpan players who will be happy to help you discover the multiple facets of this magnificent instrument.

Renting a handpan
Finally, you could consider renting a handpan to avoid investing in an instrument before knowing if it really suits you. This solution is regularly used by music schools in particular, or by shops for the piano, the violin, etc... but is still very little developed for the handpan.

Ask around in your region if this choice seems to correspond to you with shops and other handpan manufacturers or associations.
This solution will probably be more expensive than taking a few lessons or participating in a training course. It can nevertheless allow you to discover the instrument for a week or a month at a lower cost; and to acquire the first basics with the help of tutorials.



I have a handpan, how can I learn to play it well?
If you are a beginner or if you have been playing for several years, there is only one objective: to improve and diversify your handpan playing. Here are the main options that will allow you, depending on your geographical, technical and financial realities, to improve your handpan playing.

Playing the handpan with other people
A particularly interesting solution is to learn by practicing with other players. It is a very stimulating exchange, nourished by shared advice on playing techniques, melodies, rhythms and much more. Be careful, however, not to fall into the trap of not listening to others, or of trying to put yourself forward too much. Listening, humility and kindness will make these encounters beautiful memories and will have helped you progress.
Meetings with handpan players are regularly organised in more or less large groups. But if you don't know a handpan player in your neighbourhood, don't panic! You can launch a call on a forum or a dedicated group on social networks. Don't worry, that's why they exist! You will see that you are not alone in this case, and that many people are in the same search. You will also be able to easily meet other players and have memorable jams thanks to the concerts and festivals around handpan.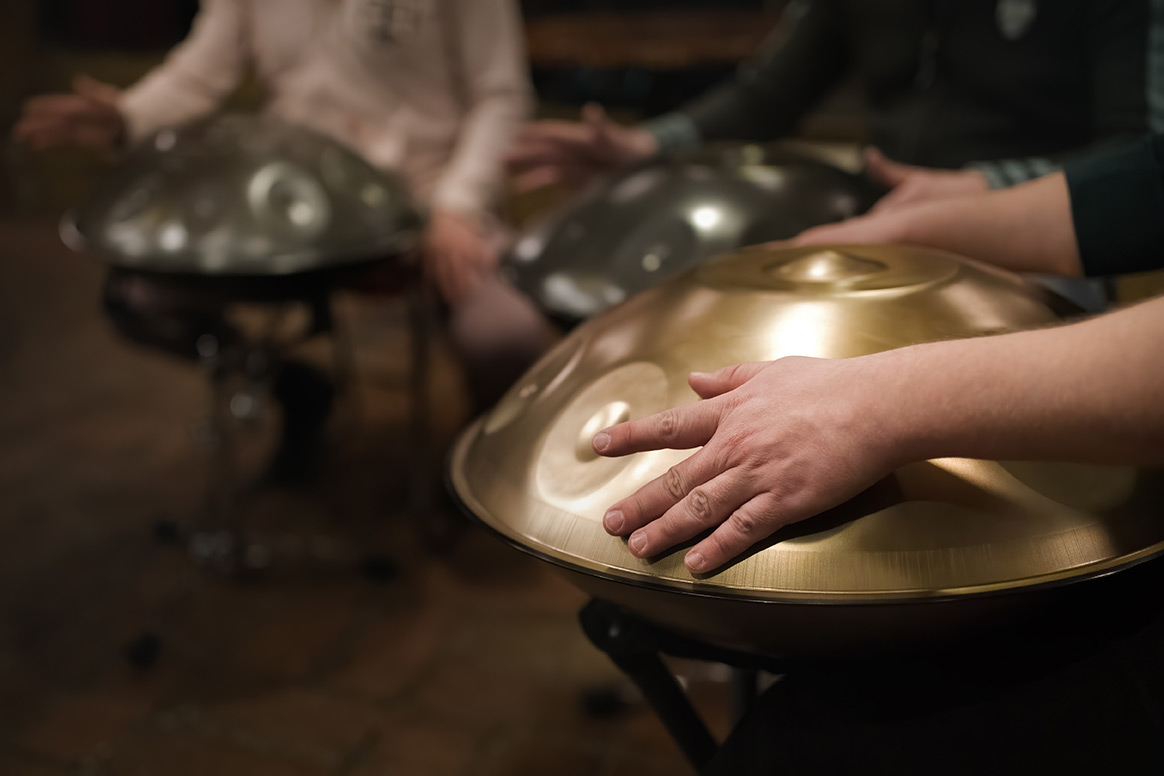 Participating in handpan workshops or courses
As for those who are not yet lucky enough to own their own instrument, you have the possibility to sign up for workshops and courses. Whether you are a beginner, an intermediate or an advanced player, you can participate in educational events organised by professional and passionate players! They will give you the keys to play well and progress on the handpan.
Don't hesitate to contact your handpan maker, who will be able to present you with workshops or courses near you.
Register on the FB groups mentioned above and follow the handpan news in your area.
Finally, you can consult the list of METAL SOUNDS partners who give handpan lessons and organise handpan workshops and courses by region.

Watch handpan tutorials on YouTube
If there's one platform that comes to mind when we talk about tutorials, it's YouTube! Learning English, making the best tarte tatin (yum!), or learning to play the handpan, everything becomes possible (or almost) with YouTube. You will see that there is no shortage of videos on the subject!
First of all, take the time to listen to and watch the handpan players' performances. Then you can go further, by following tutorial videos to learn how to play. It is a relevant approach and above all accessible to all, you have nothing to lose!
A selection of handpan video tutorials are available on the site, you can go directly to them here.

Taking handpan lessons or using a handpan method
Taking handpan lessons in France has become much easier in recent years. Until 15 years ago, handpan methods did not exist and handpan teachers could be counted on the fingers of one hand. Today, there are many more teachers, structures are created or integrate handpan in their pedagogical program and new supports emerge allowing to benefit from a digitalized teaching. In almost all major cities in France you can take handpan lessons in person. For example, if you live in the Montpellier area, Handpan Sundays are open to beginners, intermediate and advanced levels. You will be able to take advantage of small group lessons, adapted to your level in the Metal Sounds workshop, located in Saint-André-de-Sangonis (34). Miloon welcomes you one Sunday a month and instruments are provided if needed.

But if you can't find a handpan class near you, or if you prefer a more flexible solution, you should know that online handpan classes and methods exist to learn to play the handpan. In the form of a book, DVD, or online video download, there are many different formats for handpan lessons and tutorials.

Below is a non-exhaustive list of different handpan methods, some of which are available for purchase on our website:
- HANDPAN METHOD - MARK D'AMBROSIO & JENNY ROBINSON
- HANDPANS - MANUAL & MUSIC - 8 BOOKLETS - RAVID GOLDSCHMIDT
- HANDPAN "THE COMPLETE MANUAL" - LORIS LOMBARDO - BOOK + DVD
- MASTER THE HANDPAN - ONLINE METHOD
- HANDPAN DOJO - ONLINE METHOD
- HANDPAN COURSES - ONLINE METHOD

To learn more about the content and approach of these different methods, you can read our article Handpan methods and tutorials.


Learning to play the handpan is easy!
In short, learning to play the handpan is accessible to everyone! Young people, seniors, amateur musicians, or simply curious, do not hesitate anymore because the instrument is particularly intuitive, and you will be able to quickly compose your own melodies and take pleasure in making this incredible metallic percussion vibrate.
Dedicated meetings in various formats, such as concerts, festivals, or even fairs, will allow you to better discover and appreciate the handpan by meeting passionate players and makers. And as we have detailed above, there are different ways to learn to play the handpan, so there is bound to be one that suits you among those we summarize below:

- Handpan workshops and courses, which allow direct immersion in the world of the handpan, and often also to make beautiful encounters.
- Face-to-face handpan lessons with the possibility of free use of instruments.
- Online handpan courses, flexible and complete, which allow everyone to learn at their own pace.
- Handpan tutorials, fun and free, they are accessibles to all.
- Handpan rental (still confidential), which gives you the opportunity to try out an instrument at a lower cost, for a week or more.
- Learning the handpan with a friend or other players, for moments of sharing and conviviality around the handpan.

Did you like this article? Would you like to receive more information about handpan? Subscribe below to our NEWSLETTER!