How to learn to play the steeldrum?

The first encounter with a steel drum often triggers an irrepressible urge to pick up the sticks and strike its many facets to hear the metal sing.
Yet many people in this situation decline the invitation, thinking that they are not musically inclined, or that this bewitching steel drum must be terribly complicated to play. At least one of these statements is false! If you have no aptitude for music, the steeldrum is a very easy instrument to play, and can make you a musician without knowing it...

At first glance, a steeldrum seems complicated to play, with its multitude of apparently identical facets, sometimes spread over several drums. Beyond this confusing aspect, the atypical arrangement of the notes proposes a new scheme, very ergonomic and simple to assimilate.
This scheme is induced by the very construction of the steeldrum: unlike a piano - where the keyboard will progress continuously from the low to the high register - on a steeldrum the interference between close tones imposes alternating notes with a favourable harmonic ratio, most often a fourth and a fifth. This arrangement could also be visualised as two complementary and alternating cycles, which progress towards the treble from left to right. This alternation can be compared to some extent to that of the kalimbas, where the slats are not arranged consecutively but according to the same alternating principle, leading to the same ease of playing. On the tenor steeldrum in particular (soprano), this arrangement represents an exceptional pedagogical tool which offers a simple understanding of musical harmony and a great intuitiveness in playing. This logic is the same for steeldrums with two, three... up to six drums, each cycle of notes being simply shifted by a semitone in a symmetrical way on the neighbouring drum: if one taps a C on a double second, a double guitar or a tenor bass, the C# will be placed in the same place on the other drum.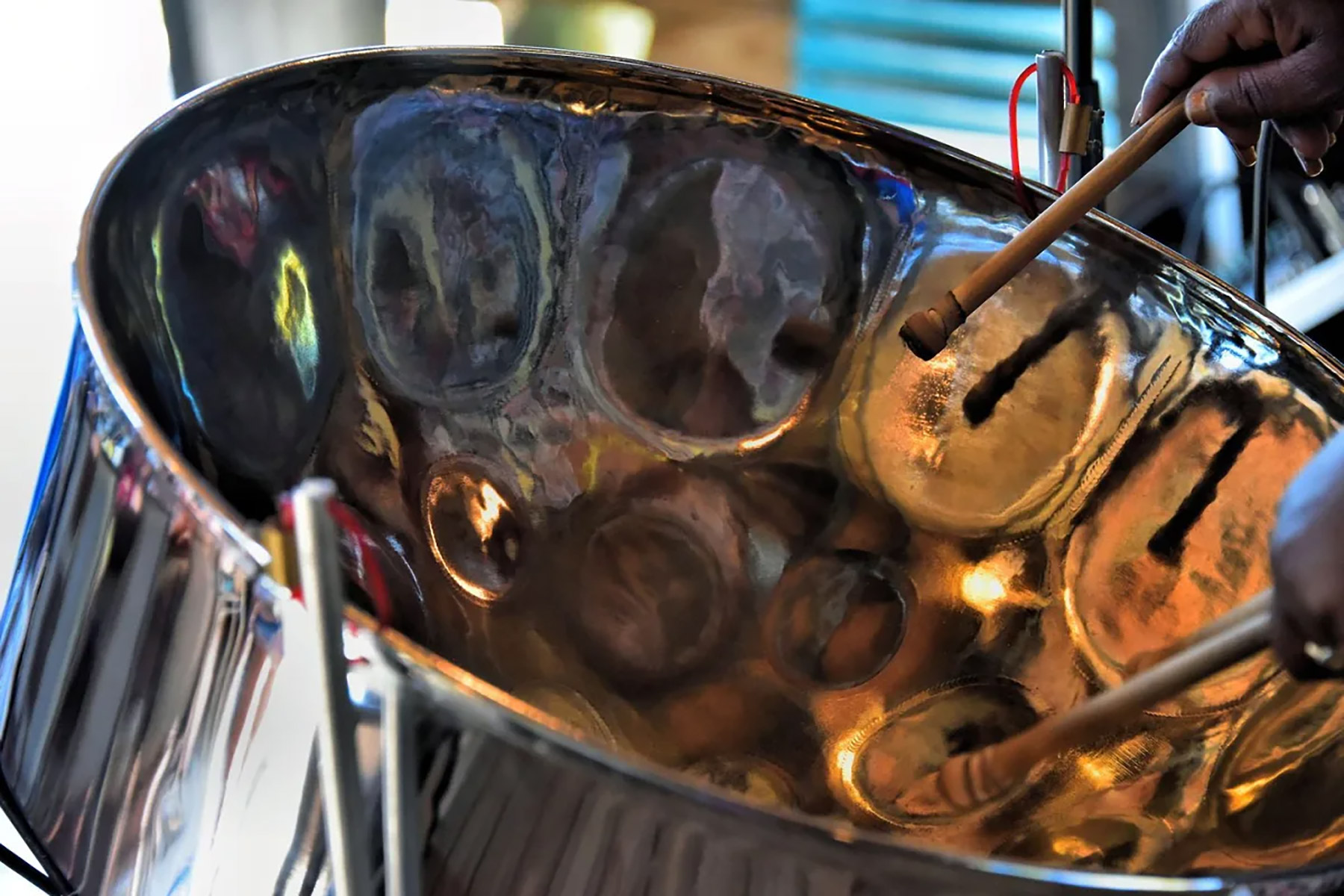 Beyond these aspects, this arrangement of notes allows a second pedagogical approach to the steeldrum, based on gestural memory: the teaching is not based on musical theory nor on perfect knowledge of one's "keyboard" but on auditory memory and on the gestures used to "lay down" chords or to unfold a melody, via the reproduction of step-by-step sequences. In addition to this particularity, the technique of playing a steel drum is accessible to all: whereas handling a bow or blowing a brass instrument requires a certain amount of training before being able to produce melodious sounds, learning to tap correctly on a steel drum requires at most a few hours for the beginner.

Now that you are reassured and perhaps decided to take the plunge, there are various options available to you depending on your skills, tastes or projections. It all depends on a number of things: are you a beginner or an experienced musician, can you read music or do you just have a good ear and a sense of tempo? Do you want to play music of your choice for your own pleasure, alone or with other musicians?
Do you want to join a steelband school? Depending on your answers, different ways of approaching the learning of the instrument will be possible.


Learning to play the steel drum in a steelband school
Since the end of the 1980s and under the impulse of Calypsociation in Paris, steelband schools have been created in several French regions. The majority of these steeldrum schools are associations, and convey the traditional spirit of the steelband: an orchestra open to all, and whose teaching is not based on the learning of musical theory but on the progressive reproduction of note sequences. To learn to play the steeldrum you will not be asked to know your instrument perfectly or to be able to read a score, but rather to memorize the melodies or chords as well as the gestures that come from playing them.
The difficulty of the pieces proposed is of course adapted to each level and thus allows you to play the steeldrum immediately in an orchestra, which is extremely pleasant and motivating.

Although traditionally based on Calypso music, different styles of music are now covered in this type of school.
Different steeldrums are often made available to students for lessons, and newcomers are not necessarily given a choice of instrument (tenor, double second, guitar, bass, etc.) depending on the balance of the orchestra's desks. In addition to these schools, some music schools or regional conservatories now offer steeldrum lessons, generally on the same principle.
Do not hesitate to search on the internet for administrations or associations that may offer courses, or to find out about schools near your home.
Learn the steeldrum with a method
Numerous methods in books, CDs, and DVDs have been created with the aim of making learning the steeldrum as easy as possible.
Often designed in the form of "tablatures" representing the note patterns of the different registers, they cover both the technique of the instrument and the learning of study pieces. You can check out our article "Steeldrum Methods and Tutorials" for a range of steeldrum methods and sheet music.





Learning to play the steeldrum with sheet music
It is quite possible to approach the steeldrum as a more traditional instrument if you can read sheet music. You just need to make sure that it matches the range of your instrument - for example, a viola score is likely to be played on a double-second steeldrum - and know where the notes are on the instrument or at least mark the names of the notes on their surface. The technique of playing a steeldrum is quite simple and the playing gestures are quite intuitive, so it is quite possible to learn to play the steeldrum in this way, without any prior theory course.
 


Learning to play the steeldrum with tutorials
The Internet is of course an inexhaustible source of documentaries, music and various tutorials: even if the quality or pedagogical interest of these documents varies, they will often be inspiring and likely to enable you to learn simple pieces.
If you are interested in this approach a selection of interesting links is available in our article "Steeldrum methods and tutorials".


Learn on your own without support!
If you have a good ear or already play a musical instrument, it is quite possible to learn to play on your own in a satisfactory way. As described at the beginning of this article, the arrangement of the notes on a steeldrum - especially the soprano model (tenor steeldrum in C or D) - makes it possible to find melodies intuitively and relatively easily, as long as they correspond to the range of the instrument. The striking technique being simple and quickly assimilated, it is quite possible to discover and assimilate the steeldrum in this way.  

Let's play!

Did you like this article? Would you like to receive more information about steeldrum? Subscribe below to our NEWSLETTER!