Explore the sounds of Spacedrum handpans with Miloon at Yoga Summer Camp

Immerse yourself in a unique experience combining serenity, well-being and sharing at the heart of the Yoga Summer Camp festival. Now in its 2nd year, this not-to-be-missed event is an invitation to take care of your body and mind, whether you're a novice or a seasoned practitioner. Get ready for total immersion in the world of well-being, in an idyllic setting conducive to relaxation and deep connection with yourself.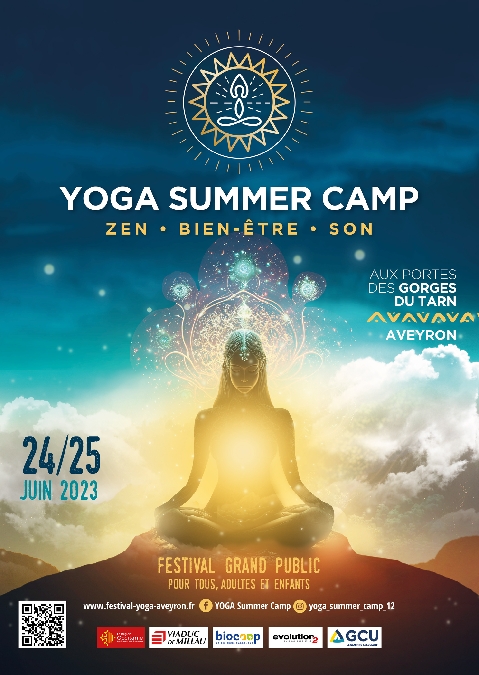 The Festival that Cultivates Harmony
Yoga Summer Camp is distinguished by its holistic approach to promoting harmony in all aspects of life. Throughout the festival, you'll have the opportunity to take part in a multitude of activities and discover a variety of gentle practices, meditation, yoga and well-being, offering a perfect balance between body and mind.
Miloon: an artist at the heart of the festival
Our partner Miloon, multi-instrumentalist percussionist, socio-cultural facilitator and handpan teacher, will be on hand at Yoga Summer Camp to bring you unique musical workshops. This passionate artist will invite you to explore the world of the handpan and let yourself be carried away by the rhythm and vibrations.
Miloon will share his experience and talent in the art of handpan playing. During the festival, he'll share his expertise and guide you through interactive workshops to explore your own musical creativity.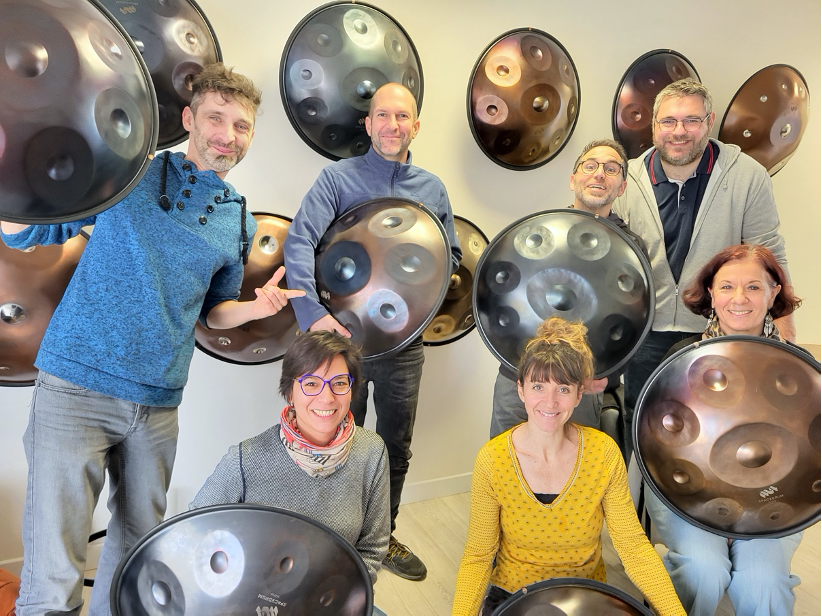 Miloon (left) and his students during "Handpan Sundays" at the Metal Sounds showroom.
Workshops for all levels
Miloon's workshops at Yoga Summer Camp are designed to appeal to a wide audience, whatever your level of musical practice. Whether you're new to percussion or already have some experience, you'll find sessions to suit your needs and aspirations.
Miloon will be there to support you, whether you're discovering the instrument for the first time or want to deepen your knowledge and skills as a handpan player. His workshops will be interactive and focused on experimentation, allowing you to connect with the instrument and explore different playing techniques.
An enriching musical immersion
During these workshops, Miloon will guide you through different percussive practices and techniques. You'll have the opportunity to play different Metal Sounds Spacedrum handpans and discover their unique sounds. The emphasis will be on self-expression, creativity and the pleasure of playing music together.
Miloon's workshops offer an immersive experience, allowing you to express yourself through music. Whether you're looking for deep relaxation, a way to express your emotions or simply a fun and enriching activity, these workshops will be an unforgettable experience.
Quality handpans with Metal Sounds
As you familiarize yourself with Spacedrum handpans, you'll discover their unique character and ability to express a wide range of emotions. Whether you choose to play haunting melodies, driving rhythms, meditative moods, or simply have fun with a handpan for the first time, our instruments will accompany you in your musical exploration.



Practical information on the Yoga Summer Camp and Miloon's workshops

To take part in Miloon's workshops and immerse yourself in the world of the handpan at Yoga Summer Camp, here's some practical information:
The festival will take place from June 24 to 25, 2023 at the gateway to the Gorges du Tarn. 
Places for Miloon workshops are limited, so please book in advance by contacting Yoga Summer Camp directly.